---
Love gravity bikes? Hey, so do we! Our blog is a place to share your stories, inspire others and make the gravity bike community more connected, fun and professional. You can also follow us on Facebook and connect with over 54,000 like minded riders and supporters.
Posts in Speed
My first G-Bike...
13 September 2013 / Posted by Giorgio "Sgrips" Gagliardi
Hello guys! This is my first Gravity Bike! http://www.youtube.com/watch?v=UH4gbsANxKQ
Read more
---
Experiments in speed.
17 August 2013 / Posted by Brett Phillips
Experiments in speed. Inspired by those great men of the salt flats, those men that in the 60s pushed the Land Speed Record from the 300s up towards the 600mph mark in jet-propelled cars built in their sheds. In many ways this video captures everything we love about designing, making…
Read more
---
Our new vid!
5 February 2012 / Posted by Brett Phillips
Hey crew, we thought that you might enjoy our latest video from Marysville, Victoria Australia. We have been testing some cool new angles and have developed some booms that we will have in our store at some stage. Special thanks goes out to Luke C and Sholto Allbrook for the…
Read more
---
Beat the Bastard 2012
25 January 2012 / Posted by Brett Phillips
Name of event Beat the BastardNature of event FreerideEvent URL http://www.beatthebastard.com.au/Location Townsville, AustraliaDate of event May 5th & 6th April 2012Organised by BTB committeeContact number 613 07 47754044Contact email n/aDirectory reference n/aGoogle map n/a Australia's best event is on again! Beat the Bastard is a charity freeride organised by the…
Read more
---
On any sunday
10 January 2012 / Posted by Brett Phillips
Image: Courtesy of some rad dude in full tuck, circa unknown If you thought that I was going to write about the film On Any Sunday, I'm sorry to disappoint. While the documentary that following the lives of motorcycle racers and racing enthusiasts, including actor Steve McQueen was incredibly rad,…
Read more
---
Police Gravity Bikes!?
6 March 2011 / Posted by Brett Phillips
Image: Courtesy of Aji, Circa 2011 Since the dawn of time, the fuzz have been trying to take the 'u' out of 'fun'! In their latest attempt to keep the little gravity bike man down, they have been snapped testing their latest gravity weapon. That's right people the Mad Max…
Read more
---
150mph on a bike?!
10 November 2010 / Posted by Brett Phillips
Images: Courtesy of Jalopnik, Circa 1979 A photo of a strange Porsche 935 with a unique bicycle posted here set the Porschephiles at PorschePurist.com searching for an explanation. Here's their story of Jean Claude Rude and his pursuit of the world bicycle speed record. — Ed. of Jalopnik. 150 mph…
Read more
---
GBHQ loves...
19 October 2010 / Posted by Brett Phillips
Image: Copyright individual photographers. You know when you love something so much but you just can't find the words to explain it. Well that was us until a few days ago...and then it hit us like a tonne of bricks. WE. LOVE. ROADS!
Read more
---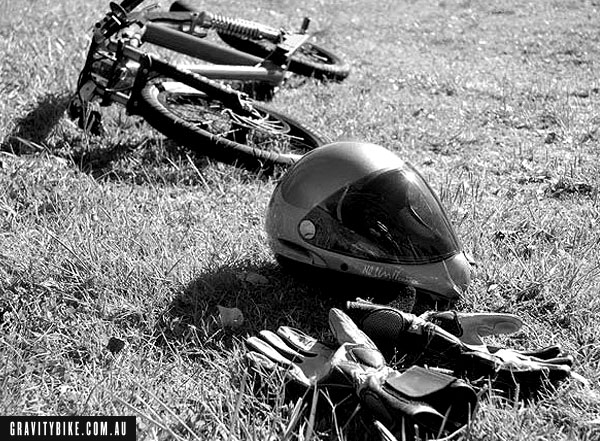 Carts of Darkness
8 October 2010 / Posted by Brett Phillips
Rad-ness comes in all forms and takes all types! Murray Siple's feature-length documentary follows a group of homeless men who have combined bottle picking with the extreme sport of racing shopping carts down the steep hills of North Vancouver. This subculture depicts street life as much more than the stereotypes…
Read more
---
Life in the fast lane
1 June 2010 / Posted by Brett Phillips
Welcome to life in the fast lane! Gravitybike HQ salutes all of the those riders, individuals, businesses and associations for their ongoing contribution to making our sport more visible, inspiring and fun. We hope you enjoy the site and look forward to hearing from you along the way.
Read more